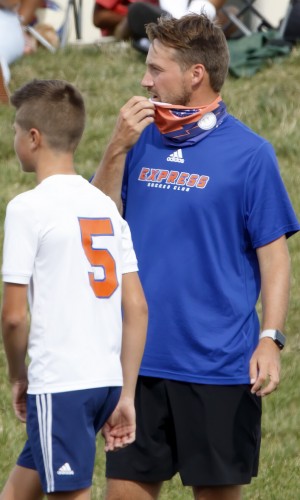 ty@columbusexpress.com   |   812-767-3092
Ty Smith, hired in 2017, serves as the Director of Coaching for Columbus Express Soccer Club.  Smith has been instrumental in creating and implementing methods, standards, and direction for all Express age phases.  Smith was recognized for his efforts and leadership by being awarded Indiana Soccer's Club Director of the Year in 2020.
Smith arrived in Indiana after serving as a coach with Kings Hammer Academy and the University of Dayton.  He also has experience having coached at Xavier University, Miami University, and Hanover College.  
Smith is a candidate for US Soccer's B License and possesses a United Soccer Coaches' Premier Diploma and Director of Coaching Diploma.  Smith is currently enrolled in the US Grassroots Instructors License.    
Smith holds a Masters in Physical Education & Coaching from Ball State University.  He also earned a Bachelors in Education from Hanover College.  Smith played soccer at Thomas More College and Hanover College.  
dylan@columbusexpress.com   |   812-592-1151
Dylan Andrew, a former Columbus Express player, leads our Academy & Pre-Academy as the Academy Director.  Since 2016, Express players have experienced Andrew's expertise in technique and soccer basics.  Andrew's coaching has been instrumental in building the foundation for future success within Columbus Express.  
Andrew has been on staff with Columbus Express since 2015.  He has also worked with the Columbus North High School Boys Soccer program as well as founding DR Soccer.  
Andrew is working towards US Soccer's C License.  He earned the United Soccer Coaches' Director of Coaching Diploma in 2018.  
Andrew graduated from Wabash College with a degree in Spanish.  During his time as a collegiate athlete, Andrew was known one of the top playmakers in NCAA Division III soccer with a Top 20 Assist ranking nationally.  
Pre-Academy & Academy Staff
Pre-Academy Coordinator: Nathan Parkhurst   |   nathan@columbusexpress.com
Dave Bush
Ike DeClue
Alec Doyle
John Honeas
Rachel Hutchinson
Corrinne Orben
Morgan Parkhurst
Brooke Simmons
Junior & Senior Teams Staff
SENIOR TEAMS COORDINATOR: DREW LITTLE  |  DREW@COLUMBUSEXPRESS.COM
Dylan Andrew
Dalton Clement
JC Cotton
Nathan Frasier
Andy Glover
Aaron Gold
David Green
Sam LaVelle
Lemuel Nelson
Ilya Schwartzman
Nigel St Bernard
Sean Swegman
David Young
EJ Young